Ultimatte-Rentals.com is your source for rental and operation of all versions of Ultimatte for blue screen and green screen productions. We have the ability to come to your studio with real-time Ultimatte hardware for 4K/UHD, HD, SD, and DV productions. If you need to do some Ultimatte compositing in post, we also rent Ultimatte AdvantEdge software.
Our Ultimatte operators are very experienced, ranging from 20 years to more than 30 years. With our expertise, you can rest assured that your blue screen and green screen compositing will be flawless.
Beyond Ultimatte rentals and operators, we offer additional services, including direct to disk uncompressed video recording and playback, including 4:4:4 Dual Link SD and HD recording, replacing the HDCAM SR, 4K / UHD recording, and recording the output of the Grass Valley Viper Camera and ARRI ALEXA camera. Need to record more than 1080p? No problem. We can record and playback uncompressed 2K formats at 24p, also 4K/60p.
Our equipment and operators are available worldwide. All equipment is ready to be shipped to your location anywhere in the world in air freight flypacks.
This Tweet from Oprah shows a brief video from one of the recent projects for which we provided all Ultimatte equipment, operators, and consultation. President Obama was in a green screen studio in Washington DC. Oprah Winfrey was at her home outside of Santa Barbara, California. The production team and Ultimatte equipment were in Burbank, California.
Contact us today. We can do the same for you and your production!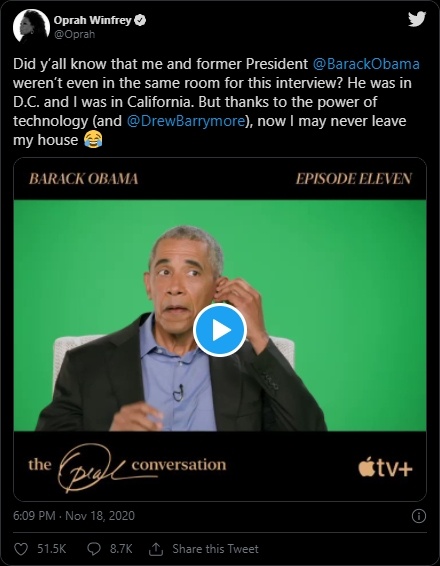 Ultimatte is a registered trademark of Ultimatte Corporation.
All content ©2005-2021 Ultimatte-Rentals.com. All rights reserved.